Google Meet in 2021: A year of accelerated innovation
2021 has been a year of change for all of us as the pandemic continued to expedite technology's role in keeping us connected through video. Google Meet played a significant role in enabling those connections, helping friends, families, and colleagues across the globe safely come together.
As we saw in our recent global Economist Impact survey (October 2021), hybrid work has become a standard practice for many, underscoring the need for meaningful video meetings for the foreseeable future. Our survey also saw that, over the course of the pandemic, a lack of physical connection has led to feelings of disconnectedness. That's why this year we've worked hard to enable ways for people to stay connected in a more human way—with a solution that's flexible, immersive, inclusive, and secure by design.
Here's a look back at this year's most requested and impactful Google Meet features that help address the challenges of hybrid work, learning, and life.
Fueling the flexible future of work
As many of us worked from home and others made big moves across the country, we delivered greater flexibility to support work-from-anywhere. We introduced new features that help people easily join or host meetings from their device of choice.
A new, intuitive interface allows participants to get started quickly, display up to 49 people at once, and hide self-view to reduce meeting fatigue.
A standalone progressive web app and updated mobile apps allow you to join from your device, whether you're working from your desktop or connecting from your phone on a walking meeting.
Recently increased meeting sizes of up to 500 attendees for select Education, Business, and Enterprise plans helps ensure everyone has a spot in the meeting.
Attendance reports that can keep track of attendees, whether for work, a class, or a new workshop you're hosting.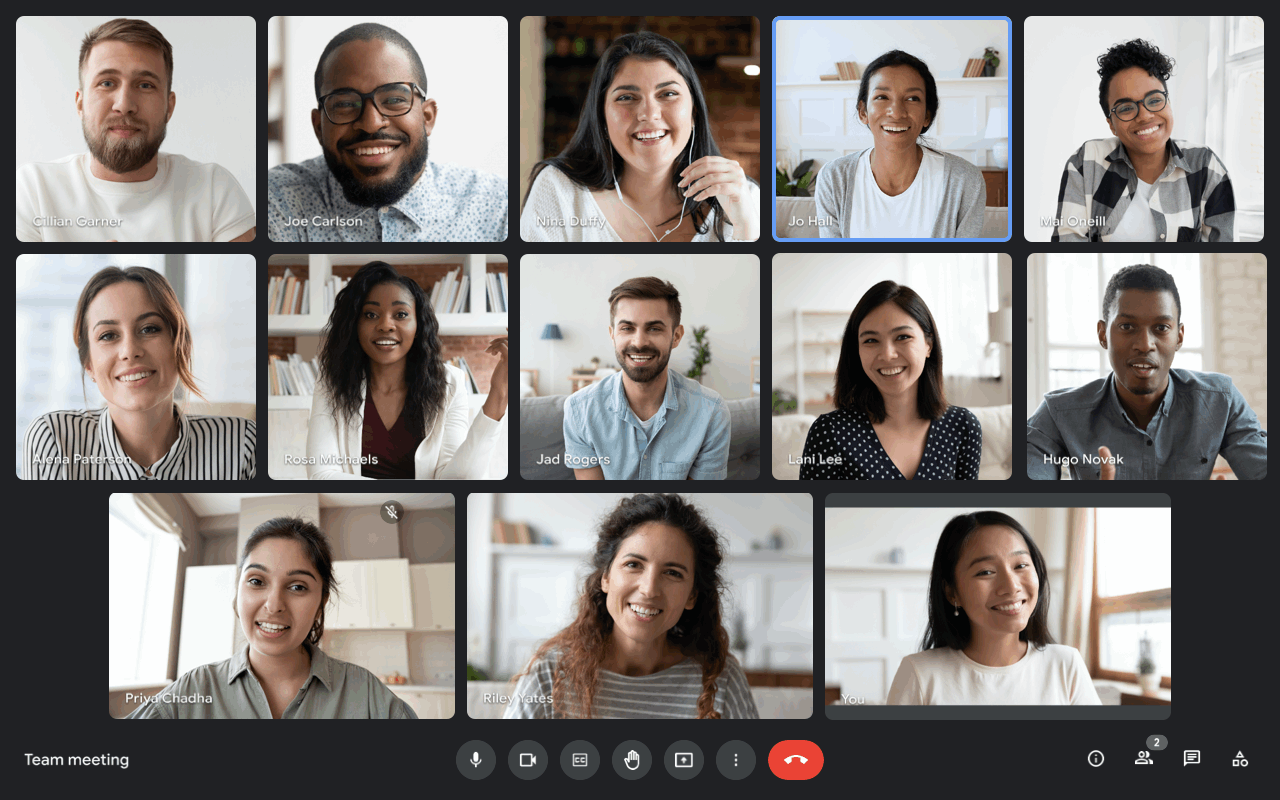 Making meetings more immersive
As people returned to the office, many organizations needed to ensure an immersive meeting experience for in-person and remote attendees alike. To support this challenge, we invested in new Google Meet hardware and features that help bridge the gap.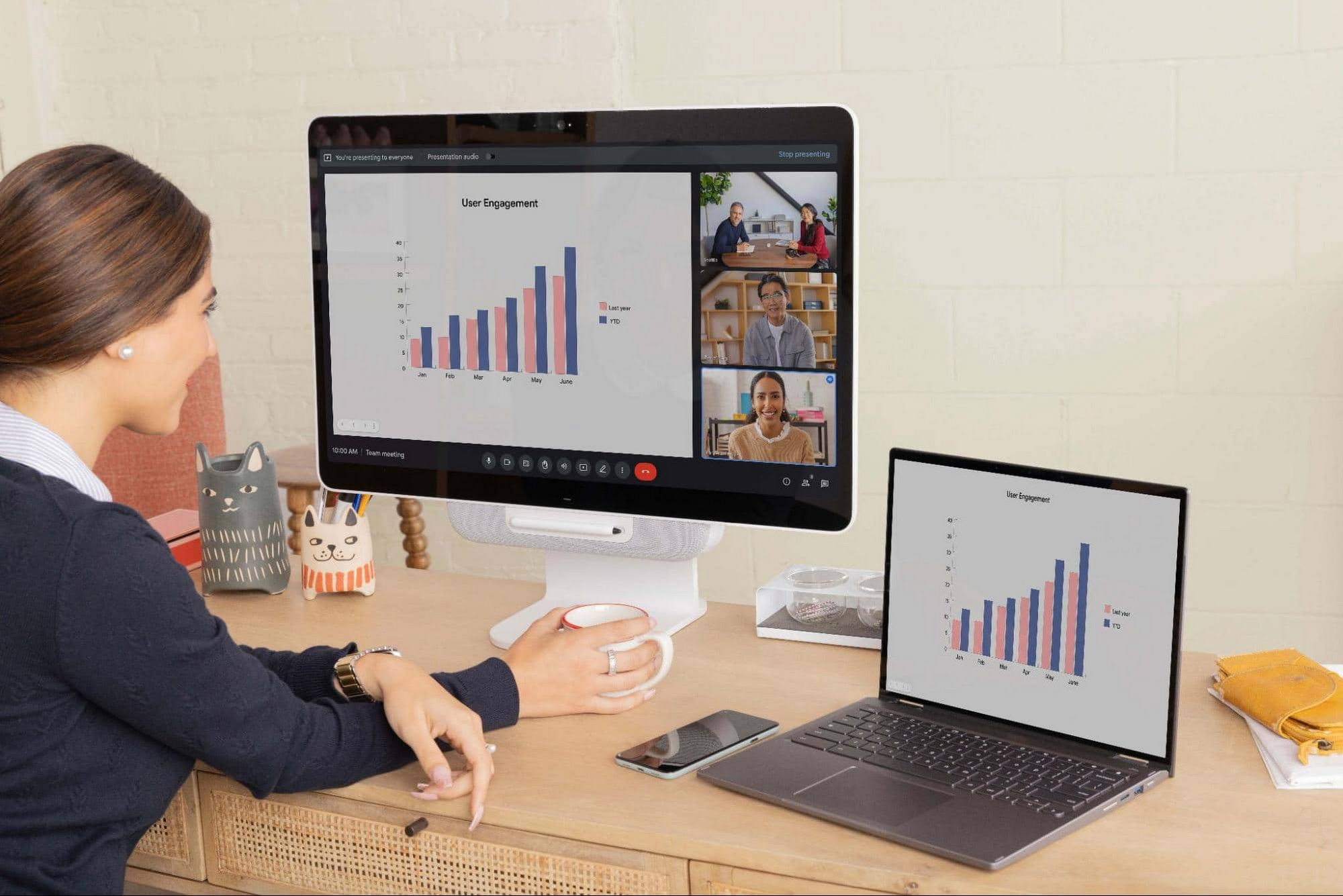 Supporting collaboration equity
For meetings to be more equitable and inclusive, we want to help everyone on the team feel seen and heard. Regardless of where you're dialing in from, your level of experience with video meetings, or the language you speak, you can have the opportunity to engage and participate.
New virtual backgrounds, automatic light adjustment, and noise reduction help keep the focus on people and ensure that participants can be seen and heard, whether they're joining from the office, a coffee shop, or the kitchen table.
Hand raising improvements with automatic lowering give participants the opportunity to share their perspectives, while breakout rooms can help facilitate deeper engagement in small group discussions.
Polls and Q&A can help keep the presentation going and on topic while helping to make sure the audience is engaged and questions are answered.
Translated captions, rolling out soon, and live caption support for multiple spoken languages can help attendees who are deaf or hard of hearing, speak a different primary language, or are in a noisy location, better understand and participate in meetings.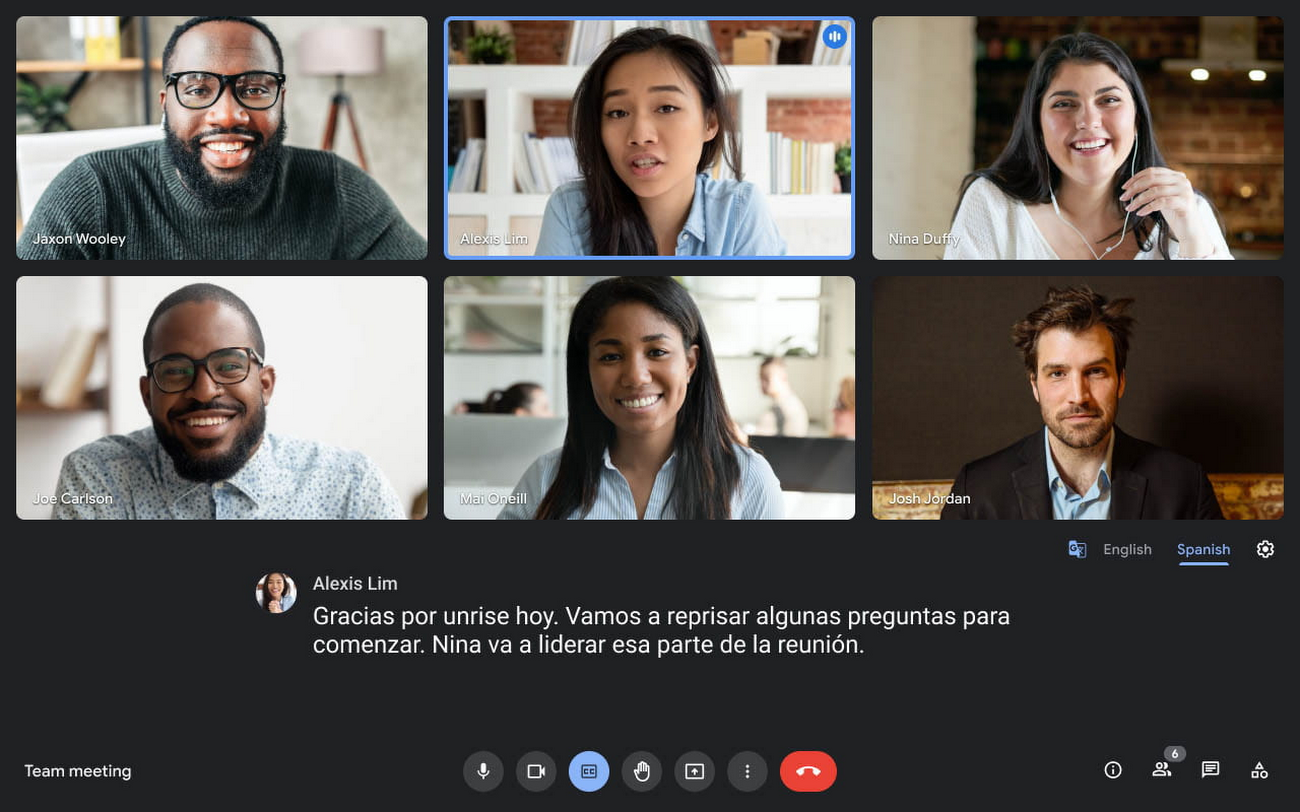 Greater control and protection for your conversations
As more organizations adopt cloud-based meeting solutions, security remains top of mind for IT decision makers. To address this concern, we launched new security features and host controls on top of our trusted global infrastructure to help better protect your data and conversations.
With client-side encryption for Google Meet, currently in beta, companies are able to manage encryption keys in-house to help fulfill data sovereignty and compliance requirements.
Meeting hosts and co-hosts can now choose which attendees can share screens and send chats, as well as mute the room when others are speaking and end the call for everyone on the call.
Organizations and individuals can record meetings with confidence and control view access with Google Drive for on-demand viewing.
Meeting hosts can now reach a broader audience with live stream support for up to 100,000 viewers that can be shared with people in other trusted organizations.
As I look back on 2021, I'm so proud of the innovations our team launched, and more importantly, our customers' perseverance in adapting to the new realities of the workplace. They're leveraging our solution along with new workplace practices to bridge the gap and make hybrid work feel more human. We're excited to see all the ways (and places) people will use Meet to connect, create, and collaborate in 2022.