15 milestones, moments and more for Google Docs' 15th birthday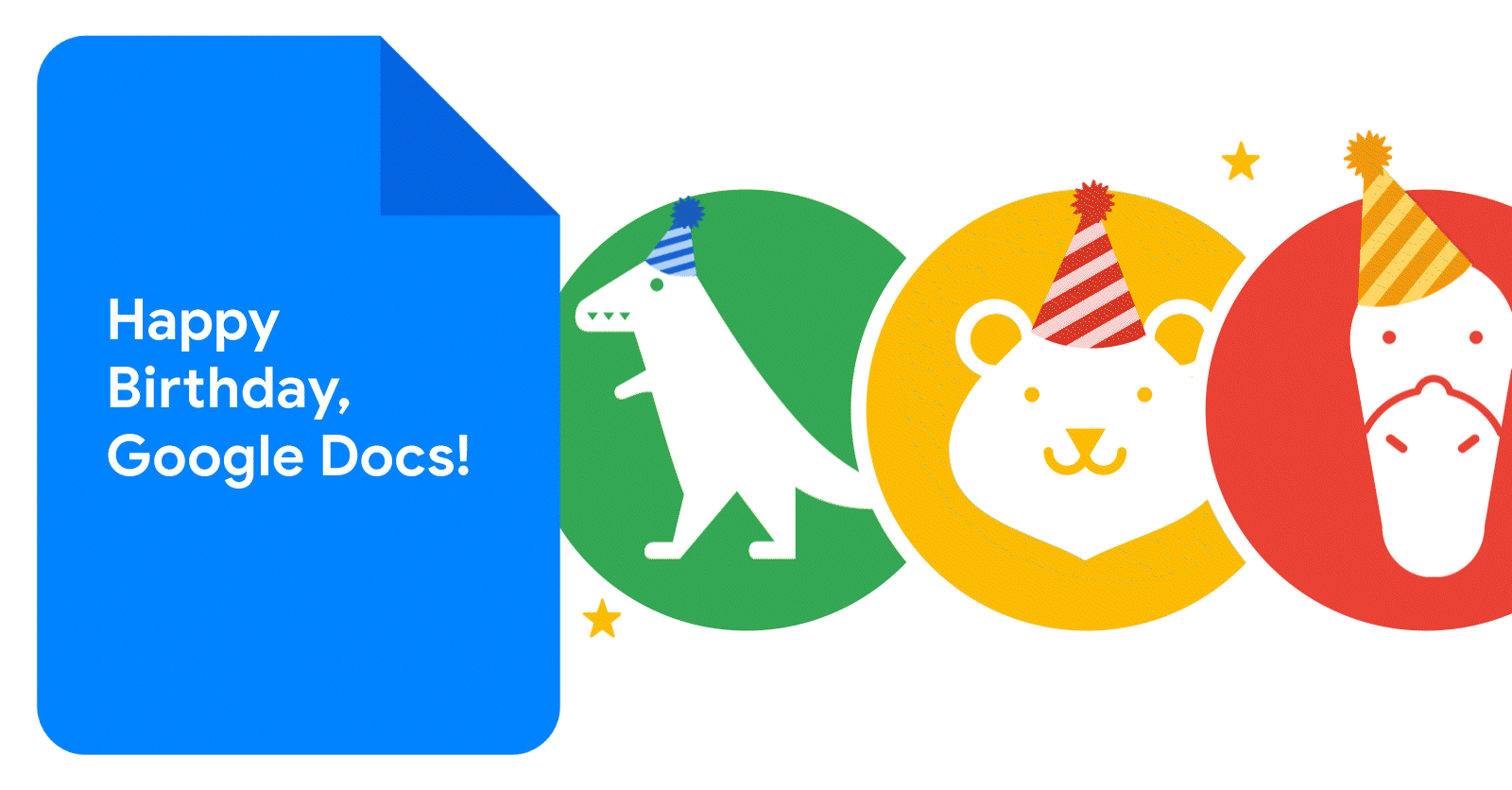 In 2005, an easy-to-use, online word processor called Writely launched. A year later, the collaborative writing tool became part of Google, and over time it evolved into Google Docs. Officially launched to the world in 2006, Google Docs is a core part of Google Workspace. It's also, as of today, 15 years old. But it wasn't always so obvious how useful — and loved — Docs would become.
Jen Mazzon was part of the original Docs team, or the Google Writely Team as it was then called. "Everyone told us it was crazy to try and give people a way to access their documents from anywhere — not to mention share documents instantly, or collaborate online within their browser," she wrote in a March 2006 blog post. "But that's exactly what we did."
As a much-deserved gift to Docs, here are 15 things about Google Docs that we're celebrating — from important moments to tips and tricks, there's a lot to love.
In 2010, Docs got its first big update, adding things like the ability to see others editing and writing in shared documents and better importing features.
Internally, the Docs team has breakfast-themed names for the widgets you see when you edit in Docs. For instance, the yellow messages up at the top are called "butter," and the dialogs that pop out from the bottom right corner are called "toasts" because they pop out of a corner just like toast popping out from an upright toaster. The red error message at the top? That's "ketchup."
When COVID-19 sent students and educators home, we shared ways they could make use of features like offline Docs and real-time commenting to keep learning and collaboration going remotely.
Lizzo and Sad13 used Google Docs to write music together, and they let us in on their creative process.
There was that time when none other than the Reading Rainbow team designed a book report template for Docs, which you can still use today.
Laura Mae Martin, Google's Chief Productivity Advisor, always knows the best ways to get the most out of Docs. She shares her tips and tricks regularly on her YouTube channel.
In 2018, the Docs team came up with an Easter egg: Typing #blackhistorymonth into a Doc would trigger Explore in your doc, with information about Black history and the Black community.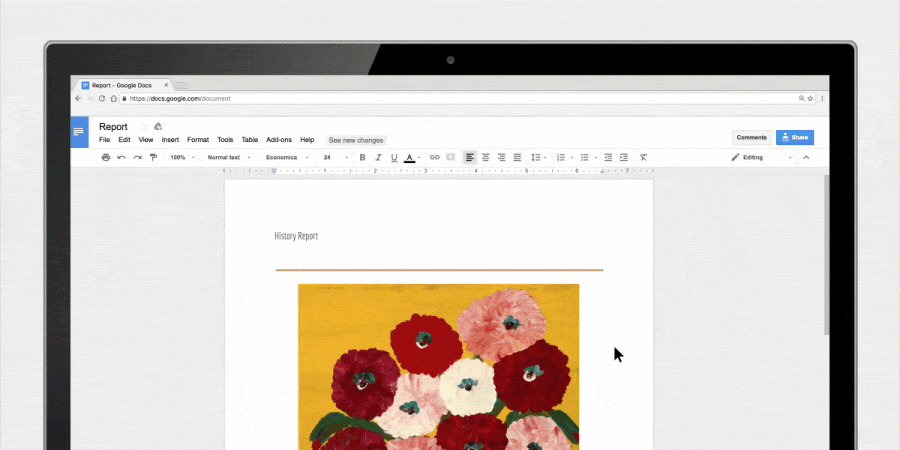 8. Here's a tip: If you click the "+" icon on the right-hand side panel of the page, you'll find add-ons — from there, select the hamburger menu (the three lines) and check out Editor's Choice or Top charts for helpful recommendations.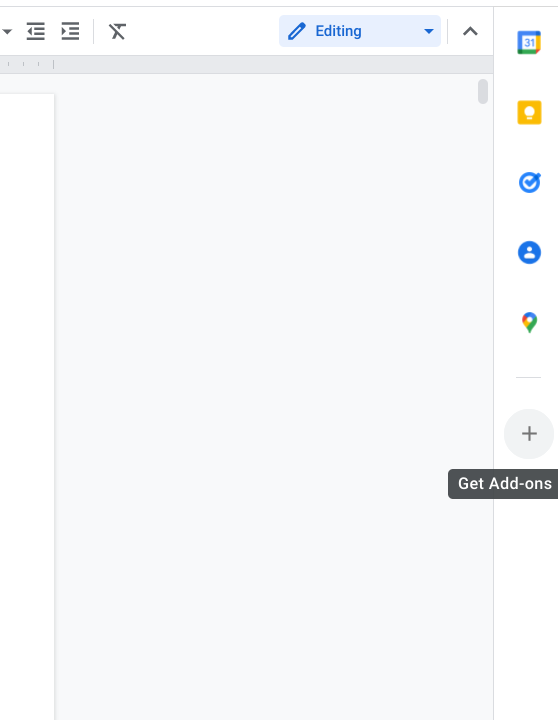 9. Over the years, Docs has became a crucial creative asset for writers of all kinds. Author Viviana Rivero even uses Google Docs to tell stories that people read in real time, as she writes.
10. The Google Workspace team has thought a lot about how to make the most of its tools for hybrid work, including Docs. Learn more in the Google Workspace Guide to Productivity and Wellbeing, which includes tips about how you can make the best use of your time working from home — while also making time for yourself.
11. This past May, the Google Workspace team launched smart canvas — which, among other things, lets you @ mention people in Docs, add checklists and use templates. Soon you'll also start to see Docs suggesting more inclusive language as you write and edit.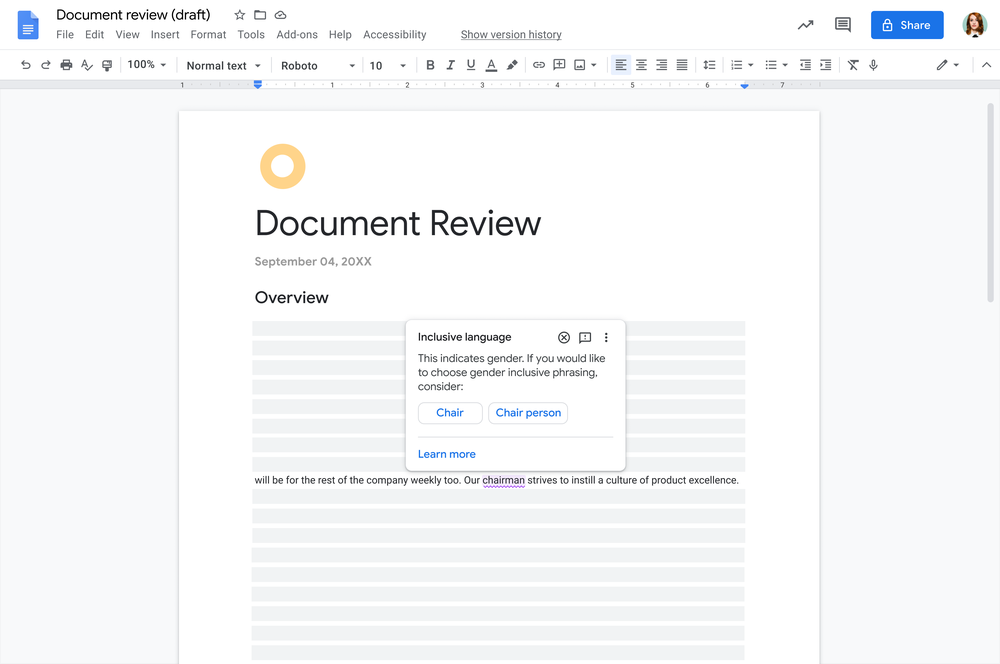 12. Thanks to new features like Smart compose and Smart reply — made possible by machine learning and artificial intelligence — Docs has become a stronger collaboration tool for the more than three billion users who rely on Google Workspace.
13. Anyone who's ever worked on a group Doc knows the upper right-hand corner can sometimes populate with Anonymous Animals — so in 2019, we partnered with the World Wildlife Fund to raise awareness about animals we hope don't become anonymous.
14. We saw the New York Times share how its staff turned to Google Docs during the pandemic to keep journalists and readers connected. They've used Docs to celebrate everyday victories, discover music and recommend movies. As a result of COVID-19 and quarantine, we also saw people use Docs to create virtual escape rooms and organize mutual aid efforts.
15. Over here on the Keyword team, we're big Docs users: Everything you read on this very blog starts in a Doc — including our weekly newsletter, which we launched last year. And fittingly, this very post.
Happy birthday, Google Docs; we literally couldn't do it without you.