Need a better night's sleep? Meet the new Nest Hub
A little over two years ago, I was part of the team that created Nest Hub, Google's first smart display. Since then, we've been exploring ways to make these devices even more helpful. We know people already come to Google for information and tools to help them live healthier, happier lives, and we've specifically noticed more and more questions about sleep, exercise and health. So we decided to bring these kinds of solutions to our second-generation Nest Hub, while also improving what people already love about it.
The Nest Hub you love, but better
The new Nest Hub's speaker is based on the same audio technology as Nest Audio and has 50 percent more bass than the original Hub. Fill any room with music, podcasts or audiobooks from services like YouTube Music, Spotify, Apple Music and Pandora — or enjoy your favorite TV shows and movies with a subscription from providers like Netflix, Disney+ and YouTube TV. With Quick Gestures, you can pause or play content at any time by tapping the air in front of your display.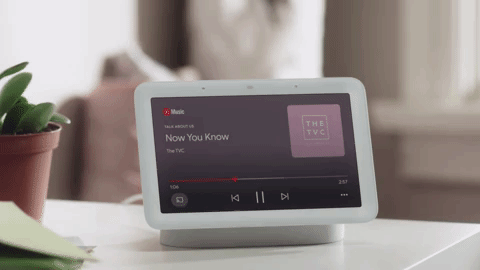 Nest Hub has all the smarts and helpfulness of Google Assistant. And similar to Nest Mini and Nest Audio, it now comes with a dedicated on-device machine learning chip which moves some Assistant experiences from our data centers directly onto the device, so responses to common commands become faster over time (U.S. only).
The new Nest Hub also shows all your compatible connected devices in one place. And with a built-in Thread radio, Nest Hub will work with the new connectivity standard being created by the Project Connected Home over IP working group, making it even simpler to control your connected home.

New sleep features for better rest
The Nest Hub has always helped you tackle the day; now, it can help you rest well at night. Many of us don't get enough sleep, which comes with some real risks.
As a father of two young kids, I'm especially passionate about sleep. I know I'm much more able to show up and connect with my family and the people in my life after a healthy amount of rest. In recent years, sleep trackers have become a popular solution. But we wanted to offer an alternative way for people who may not want to wear something to bed to understand their sleep.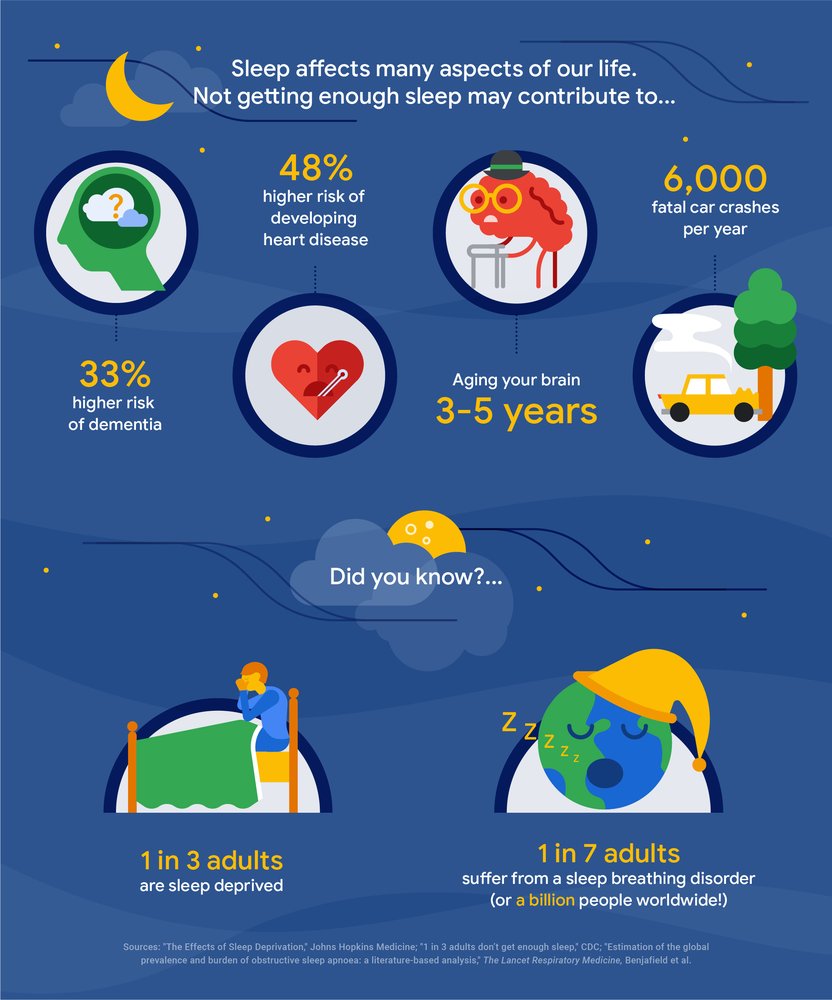 We knew people felt comfortable with Nest Hub at their bedsides thanks to its camera-free design, so we went to work. The result is Sleep Sensing, an opt-in feature to help you understand and improve your sleep:
Understand your sleep:Sleep Sensing uses Motion Sense (powered by Soli low-energy radar technology) to analyze how the person closest to the display is sleeping, based on their movement and breathing — all without a camera or wearable. Sleep Sensing can also detect sleep disturbances like coughing and snoring or the light and temperature changes in the room with Nest Hub's built-in microphones and ambient light and temperature sensors, so you can better understand what's impacting your sleep.
Every morning you'll receive a personalized sleep summary on your display, or you can view your sleep data anytime on the Nest Hub by asking, "Hey Google, how did I sleep?" Sleep Sensing can also connect to your Google Fit app on Android and iOS devices, so you can see your sleep summary alongside your other health and wellness information.

Get help for better sleep: Understanding your sleep is an important first step, but you may still have questions about what you can do to get better sleep. Sleep Sensing provides tailored bedtime schedules and personalized suggestions developed by a team of sleep scientists and using guidance from organizations like the American Academy of Sleep Medicine. Compiled after several nights of analysis, these suggestions point out notable aspects of your sleep, educate you on why they're important and provide suggestions to improve.
Built with your privacy in mind: Sleep Sensing is completely optional with privacy safeguards in place so you're in control: You choose if you want to enable it and there's a visual indicator on the display to let you know when it's on. Motion Sense only detects motion, not specific bodies or faces, and your coughing and snoring audio data is only processed on the device — it isn't sent to Google servers. You have multiple controls to disable Sleep Sensing features, including a hardware switch that physically disables the microphone. You can review or delete your sleep data at any time, and consistent with our privacy commitments, it isn't used for personalized ads.
Sleep Sensing on the second-gen Nest Hub is available as a free preview until next year. We'll also be looking for ways to work with Fitbit's sleep-tracking features in the future.
Even if you don't enable Sleep Sensing, you can still fall asleep and wake up easier with Nest Hub. The display dims to make your bedroom more sleep-friendly, and the "Your evening" page helps you wind down at night with relaxing sounds. When it's time to wake up, Nest Hub's Sunrise Alarm gradually brightens the display and increases the alarm volume. If you need a few more ZZZs, use Motion Sense to wave your hand and snooze the alarm.

Sustainable design that matches any room
The new Nest Hub comes in a variety of colors to complement any room in the house: Chalk, Charcoal, Sand and the new Mist. It features an edgeless glass display that's easy to clean and functions as a beautiful digital photo frame. And continuing our commitment to sustainability, Nest Hub is designed with recycled materials with its plastic mechanical parts containing 54 percent recycled post-consumer plastic.
The second-generation Nest Hub is $99.99 USD. It can be preordered online in the U.S., Canada, U.K., Germany, France and Australia at the Google Store and other retailers starting today.
Post :- blog.google