How AI is powering a more helpful Google
When I first came across the web as a computer scientist in the mid-90s, I was struck by the sheer volume of information online, in contrast with how hard it was to find what you were looking for. It was then that I first started thinking about search, and I've been fascinated by the problem ever since.
We've made tremendous progress over the past 22 years, making Google Search work better for you every day. With recent advancements in AI, we're making bigger leaps forward in improvements to Google than we've seen over the last decade, so it's even easier for you to find just what you're looking for. Today during our Search On livestream, we shared how we're bringing the most advanced AI into our products to further our mission to organize the world's information and make it universally accessible and useful.
Helping you find exactly what you're
looking for
At the heart of Google Search is our ability to understand your query and rank relevant results for that query. We've invested deeply in language understanding research, and last year we introduced how BERT language understanding systems are helping to deliver more relevant results in Google Search. Today we're excited to share that BERT is now used in almost every query in English, helping you get higher quality results for your questions. We're also sharing several new advancements to search ranking, made possible through our latest research in AI:
SpellingWe've continued to improve our ability to understand misspelled words, and for good reason—one in 10 queries every day are misspelled. Today, we're introducing a new spelling algorithm that uses a deep neural net to significantly improve our ability to decipher misspellings. In fact, this single change makes a greater improvement to spelling than all of our improvements over the last five years.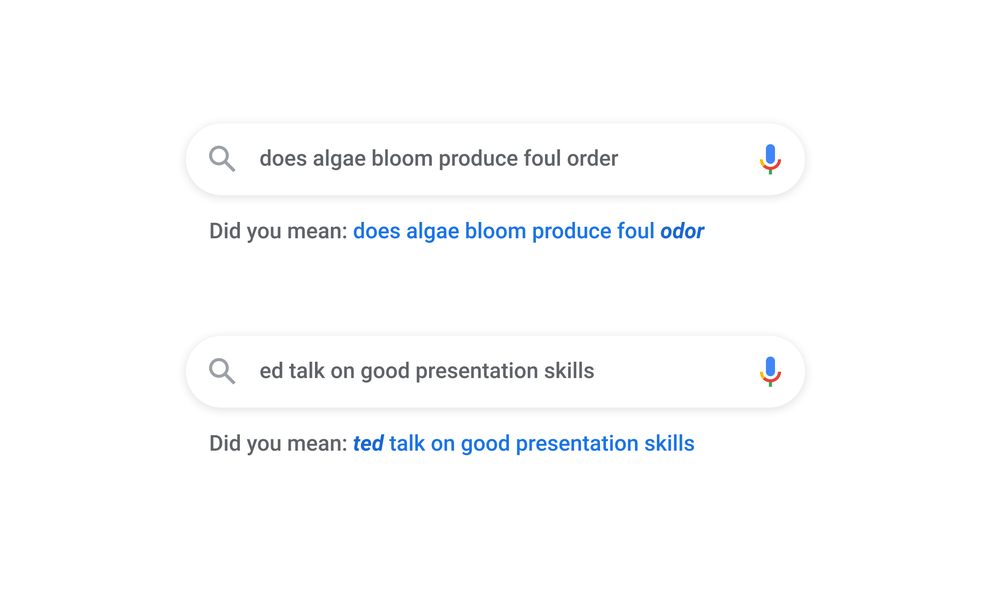 PassagesVery specific searches can be the hardest to get right, since sometimes the single sentence that answers your question might be buried deep in a web page. We've recently made a breakthrough in ranking and are now able to better understand the relevancy of specific passages. By understanding passages in addition to the relevancy ofthe overall page, we can find that needle-in-a-haystack information you're looking for. This technology will improve 7 percent of search queries across all languages as we roll it out globally.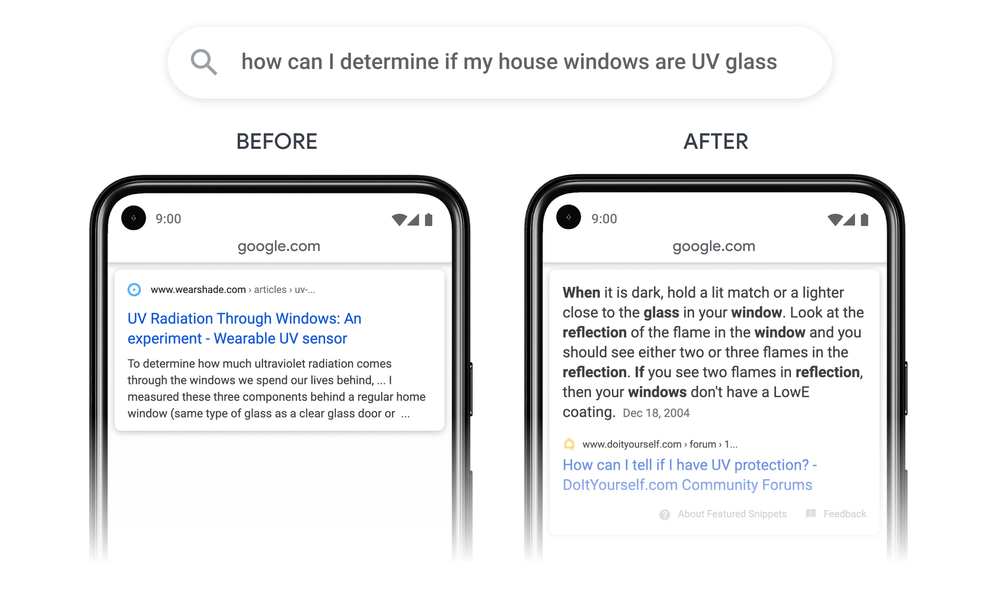 SubtopicsWe've applied neural nets to understand subtopics around an interest, which helps deliver a greater diversity of content when you search for something broad. As an example, if you search for "home exercise equipment," we can now understand relevant subtopics, such as budget equipment, premium picks, or small space ideas, and show a wider range of content for you on the search results page. We'll start rolling this out by the end of this year.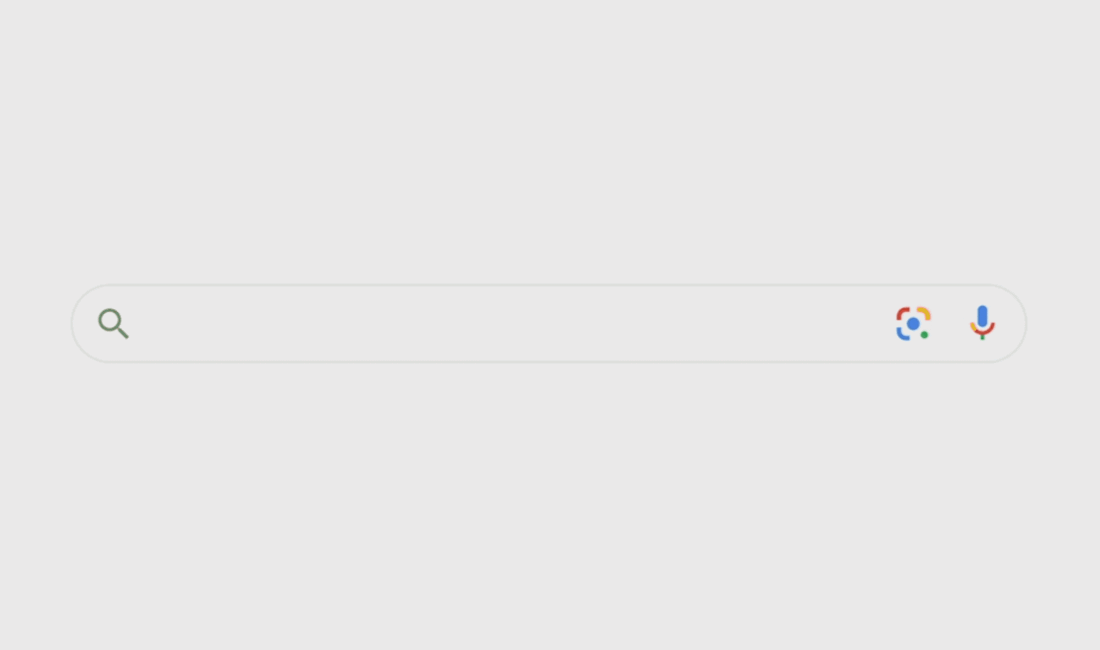 Access to high quality information during COVID-19
We're making several new improvements to help you navigate your world and get things done more safely and efficiently. Live busyness updates show you how busy a place is right now so you can more easily social distance, and we've added a new feature to Live View to help you get essential information about a business before you even step inside. We're also adding COVID-19 safety information front and center on Business Profiles across Google Search and Maps. This will help you know if a business requires you to wear a mask, if you need to make an advance reservation, or if the staff is taking extra safety precautions, like temperature checks. And we've used our Duplex conversational technology to help local businesses keep their information up-to-date online, such as opening hours and store inventory.
Understanding key moments in videos
Using a new AI-driven approach, we're now able to understand the deep semantics of a video and automatically identify key moments. This lets us tag those moments in the video, so you can navigate them like chapters in a book. Whether you're looking for that one step in a recipe tutorial, or the game-winning home run in a highlights reel, you can easily find those moments. We've started testing this technology this year, and by the end of 2020 we expect that 10 percent of searches on Google will use this new technology.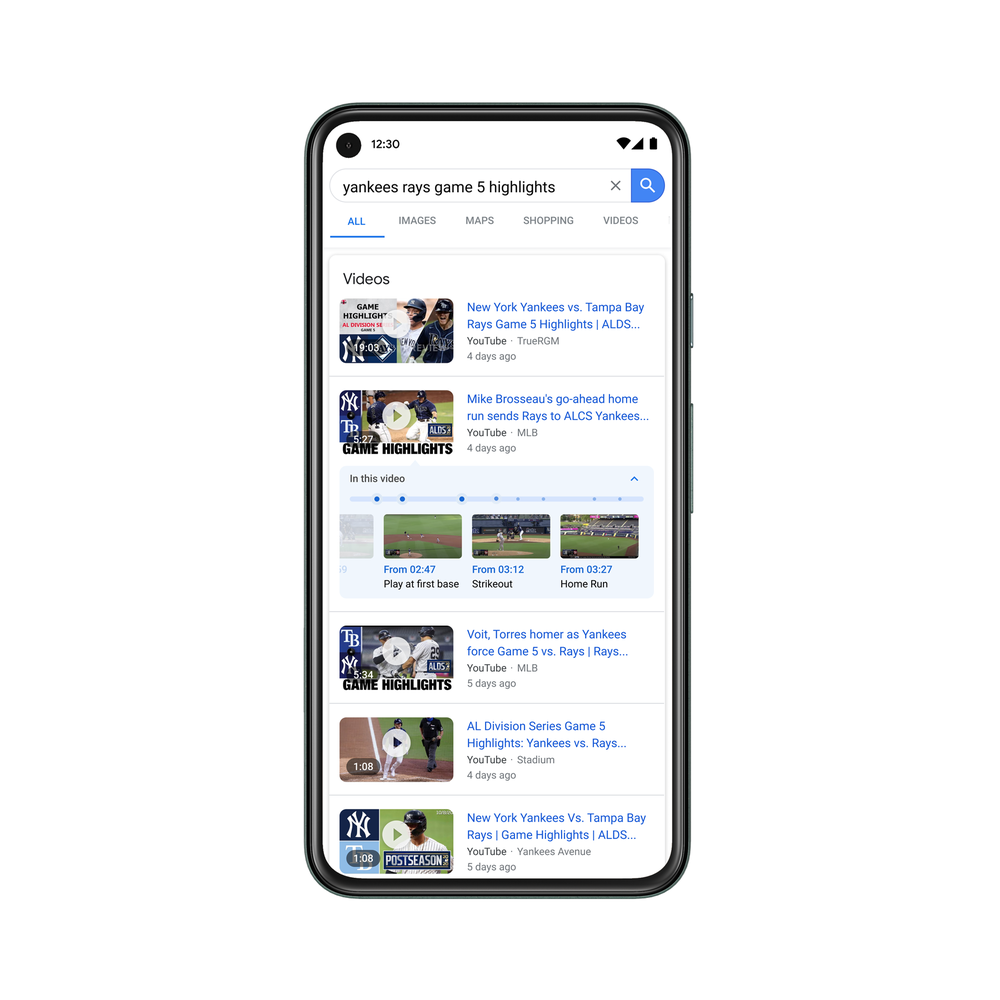 Deepening understanding through data
Sometimes the best search result is a statistic. But often stats are buried in large datasets and not easily comprehensible or accessible online. Since 2018, we've been working on the Data Commons Project, an open knowledge database of statistical data started in collaboration with the U.S. Census, Bureau of Labor Statistics, World Bank and many others. Bringing these datasets together was a first step, and now we're making this information more accessible and useful through Google Search.
Now when you ask a question like "how many people work in Chicago ," we use natural language processing to map your search to one specific set of the billions of data points in Data Commons to provide the right stat in a visual, easy to understand format. You'll also find other relevant data points and context—like stats for other cities—to help you easily explore the topic in more depth.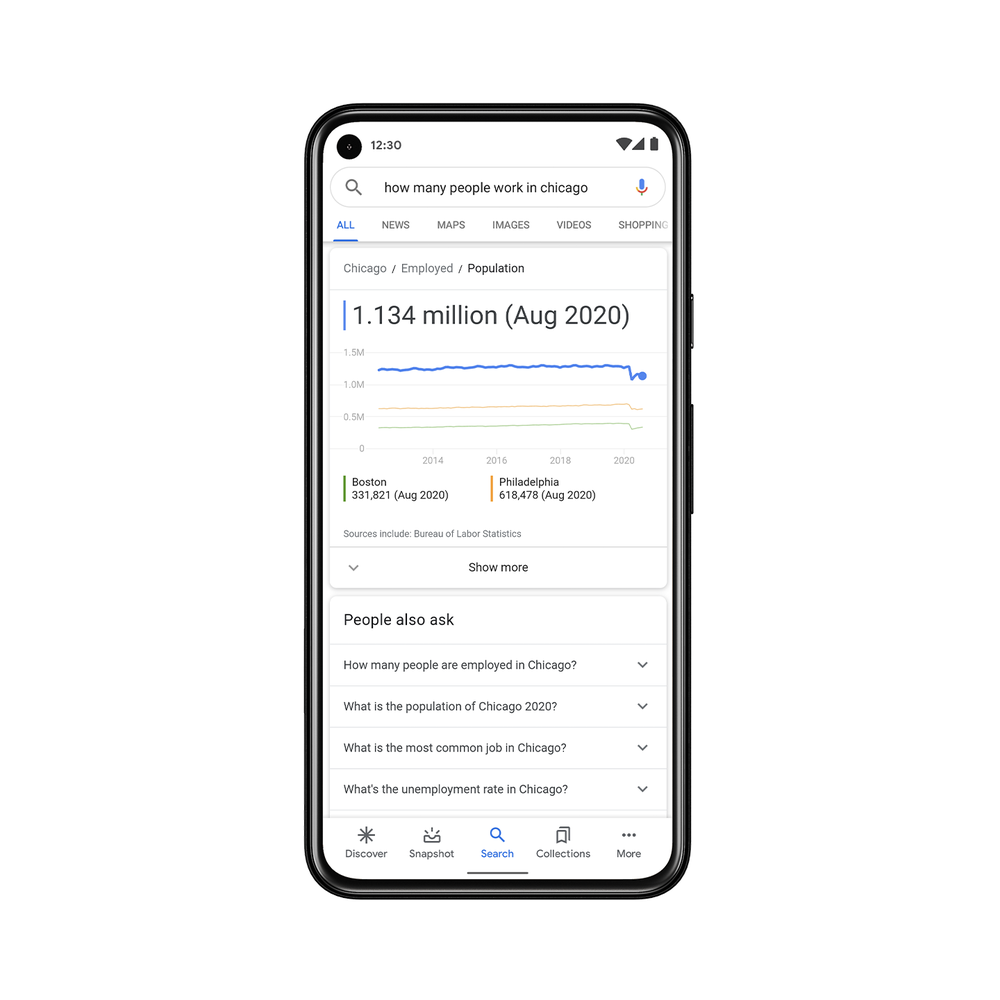 Helping quality journalism through advanced search
Quality journalism often comes from long-term investigative projects, requiring time consuming work sifting through giant collections of documents, images and audio recordings. As part of Journalist Studio, our new suite of tools to help reporters do their work more efficiently, securely, and creatively through technology, we're launching Pinpoint, a new tool that brings the power of Google Search to journalists. Pinpoint helps reporters quickly sift through hundreds of thousands of documents by automatically identifying and organizing the most frequently mentioned people, organizations and locations. Reporters can sign up to request access to Pinpoint starting this week.

Search what you see, and explore
information in 3D
For many topics, seeing is key to understanding. Several new features in Lens and AR in Google Search help you learn, shop, and discover the world in new ways. Many of us are dealing with the challenges of learning from home, and with Lens, you can now get step-by-step homework help on math, chemistry, biology and physics problems. Social distancing has also dramatically changed how we shop, so we're making it easier to visually shop for what you're looking for online, whether you're looking for a sweater or want a closer look at a new car but can't visit a showroom.

If you don't know how to search it, sing it
We've all had that experience of having a tune stuck in our head, but can't quite remember the lyrics. Now, when those moments arise, you just have to hum to search, and our AI models can match the melody to the right song.

What sets Google Search apart
There has never been more choice in the ways people access information, and we need to constantly develop cutting-edge technology to ensure that Google remains the most useful and most trusted way to search. Four key elements form the foundation for all our work to improve Search and answer trillions of queries every year. These elements are what makes Google helpful and reliable for the people who come to us each day to find information.
Understanding all the world's informationWe're focused on deeply understanding all the world's information, whether that information is contained in words on web pages, in images or videos, or even in the places and objects around us. With investments in AI, we're able to analyze and understand all types of information in the world, just as we did by indexing web pages 22 years ago. We're pushing the boundaries of what it means to understand the world, so before you even type in a query, we're ready to help you explore new forms of information and insights never before available.
The highest quality information People rely on Search for the highest quality information available, and our commitment to quality has always been what set Google apart from day one. Every year we launch thousands of improvements to make Search better, and rigorously test each of these changes to ensure people find them helpful. Our ranking factors and policies are applied fairly to all websites, and this has led to widespread access to a diversity of information, ideas and viewpoints.
World class privacy and securityTo keep people and their data safe, we invest in world class privacy and security. We've led the industry in keeping you safe while searching with Safe Browsing and spam protection. We believe that privacy is a universal right and are committed to giving every user the tools they need to be in control.
Open access for everyoneLast—but certainly not least—we are committed to open access for everyone. We aim to help the open web thrive, sending more traffic to the open web every year since Google was created. Google is free for everyone, accessible on any device, in more than 150 languages around the world, and we continue to expand our ability to serve people everywhere.
So wherever you are, whatever you're looking for, however you're able to sing, spell, say, or visualize it, you can search on with Google.