Back by popular demand: Google Cloud products in 4 words or less (2021 edition)
Priyanka VergadiaDeveloper Advocate, GoogleGreg WilsonDirector, Developer AdvocacyPublished Mar 2, 2021
Google Cloud offers lots of products to support a wide variety of use cases. But how do you even know where to start?! Don't worry, we've got you covered! We have created a set of resources that makes it easy to familiarize yourself with the Google Cloud ecosystem. You can use these resources to quickly get up to speed on different products and choose those that you're most interested in for a deeper dive into documentation and other available resources.
The 4 words or less Google Cloud developer's cheat sheet is a project that describes each Google Cloud product in 4 words or less. If you are just getting started, this resource gives you a quick overview of all that is available to you on Google Cloud. And if you're more experienced, it can be a great way to identify new products that you might want to learn more about.
When you see a product that piques your interest, learn more about it on the GitHub page by checking out the product page or documentation. The cheat sheet is available to download as a pdf (in your choice of dark or light themes!). Print it and post it, or even make it your desktop wallpaper for easy reference.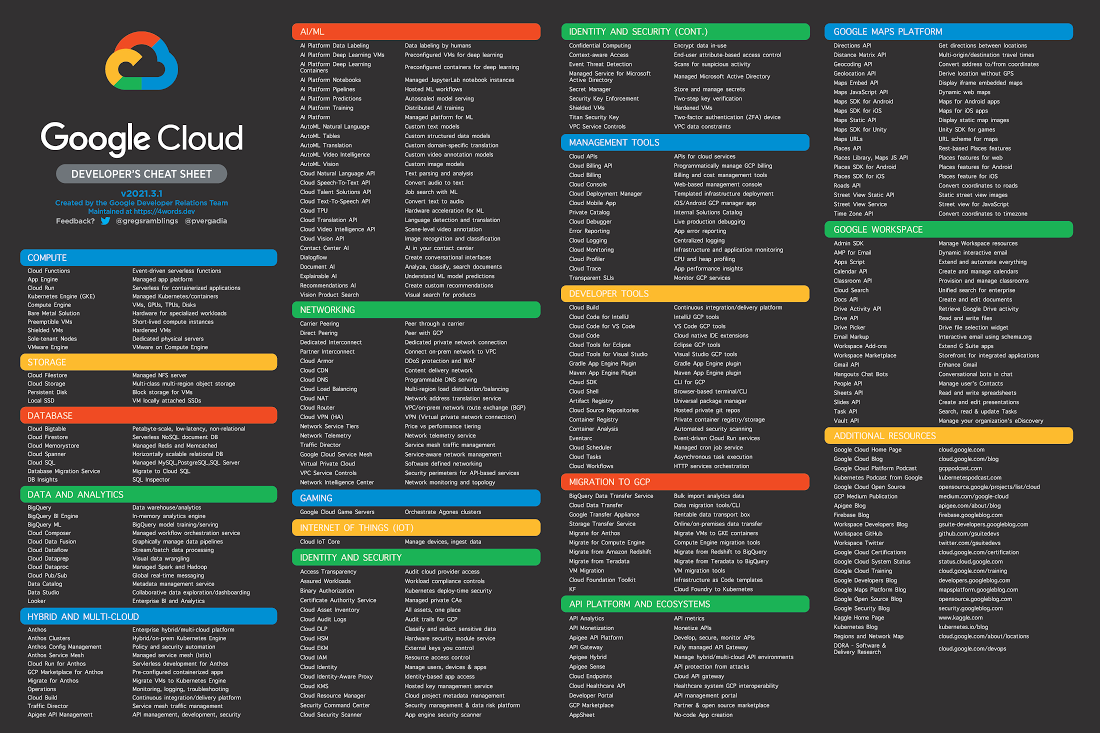 This latest update for 2021 ‪includes several new exciting product additions to the Google Cloud family:
VMware Engine: VMware on Compute Engine
Database Migration Service: Migrate to Cloud SQL
DB Insights: SQL Inspector
Assured Workloads: Workload compliance controls
Certificate Authority Service: Managed private CAs
Cloud Asset Inventory: All assets, one place
Confidential Computing: Encrypt data in-use
Eventarc: Event-driven Cloud Run services
Cloud Workflows: HTTP services orchestration
KF: Cloud Foundry to Kubernetes
API Gateway: Fully managed API Gateway
AppSheet: No-code App creation
POSTED IN: DEVELOPERS & PRACTITIONERS , blog.google.com