Google Meet and Duo help you share moments that matter
Without a doubt, 2020 was the year of video calling. And for us, that meant making sure every student, team, and family could jump on a call from any device and have a reliable, safe experience. Google Duo and Google Meet hosted over one trillion minutes of video calls globally. For perspective, that's equal to more than 18 billion hour-long virtual workouts in a single year!
Here's a recap of what we've done so far.
Productive and engaging meetings at home, work, and school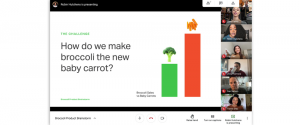 In 2020, Meet was put to the test. Our team had to really think through how virtual meetings could bring the key part of what in-person meetings provide: human connection. We launched new features like 49-tile layout, noise cancellation, background blur, and low-light mode plus live captions in five languages to help everyone follow along on the call.
Earlier this year, we made Meet free for everyone. We also announced that with your Gmail account, Meet calls are unlimited through March 31, 2021 so that families can enjoy their holiday traditions without interruptions. Speaking of Gmail, we added a Meet tab in Gmail, so that with one tap, people can jump from an email to a video call. We also brought Meet to Nest Hub Max and Chromecast to help people get up, move around, and have hands-free calls at home.
In large group settings like team all-hands or a classroom, it gets harder for people to speak up and to engage everyone on the call. With Meet, participants can use Q&A and hand raising tools, polls and breakout rooms. Organizations and moderators have more control too, keeping their meetings and participants safe, including advanced anti-abuse features, that allow for an enjoyable, safe experience for all. And in 2021, as many companies evaluate a flexible working model, we've designed Meet to work with our Series One hardware kits, created to deliver inclusive audio and video clarity that makes you feel like you're all together. So whether you're a Google Workspace subscriber relying on Meet's enterprise-grade functionality, or using Meet's free version to safely connect with others near and far, Meet has you covered.
Fun experiences in your video calls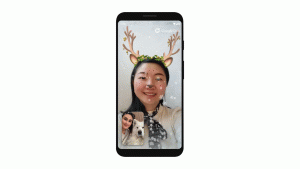 Being helpful means being there for the moments big and small. Though the pandemic kept me physically apart from many family members, I felt like they were with me and my family through virtual dinners, holidays like Thanksgiving, and even school band practices with Google Duo. At the end of the day, Google Duo makes it simple to go from texting each other to getting right on a video call.  In a year of virtual get-togethers, Google Duo was there to help make video calls more fun: doodle on video calls, magically transform into an astronaut or a cat, and spread laughs and cheer this holiday season with our wide portfolio of AR effects that change based on your facial expressions and move with you around the screen. And with Moments, you can capture the fun (and the embarrassing moments!) to relive the memory afterwards.
With so many families having to work on the frontlines, our team was focused on ensuring calls could be connected with the highest quality even in low bandwidth connections. Google Duo is available on Android, iOS, tablets, computers, Android TV, smart speakers and smart displays.
Google Meet and Google Duo were built with an emphasis on privacy and security, to keep your calls and meetings safe and your information private.
We hope that our work so far continues to help people stay in touch during this holiday season, and we're looking forward to connecting more families, friends, students, teachers and teams in 2021 and beyond.